In winterthe landscape changes once more, becoming barren and less welcoming; farmers have to face the rigors of the climate, such as frost and snow. The days become shorter and work in the fields is limited to pruning, while farmers continue to look after their livestock and repair or prepare tools and equipment for the new season. In the past, the men worked with wood, preparing rakes and pitchforks, mending their hoes, sharpening their scythes; they prepared ropes and balzi, they made sandals and the footwear known as cospi, and even constructed ottomans and other pieces of furniture for their homes.
The women, at home, dedicated themselves to spinning and weaving, of which many traces are to be found in this collection, such as combs, spinning wheels, spindlesand bobbin winders.
The processing of hempwas widespread in our area and, traditionally, the Feast of Saint Catherine (25th November) witnessed the beginning of weaving the hemp and the typical fabric that the farming families wore in winter, the "mezzalana", made from wool and hemp to give it greater resistance.
The hemp plants were macerated, kneaded and combed to extract their fibres, which were spun using distaffsand spindles. From the end of the eighteenth century, pedal-driven spinning wheels became more common, but in the countryside – even until the beginning of the last century – there remained primarily "manual" spinning, with distaffs and spindles.
Subsequently, the bleached yarn was placed on spools and gathered into skeins, before being subjected to warping, an operation that consists in combining the yarns together, in parallel. After warping, the material is ready for weaving: the yarn was in fact woven to produce clothes or sheets.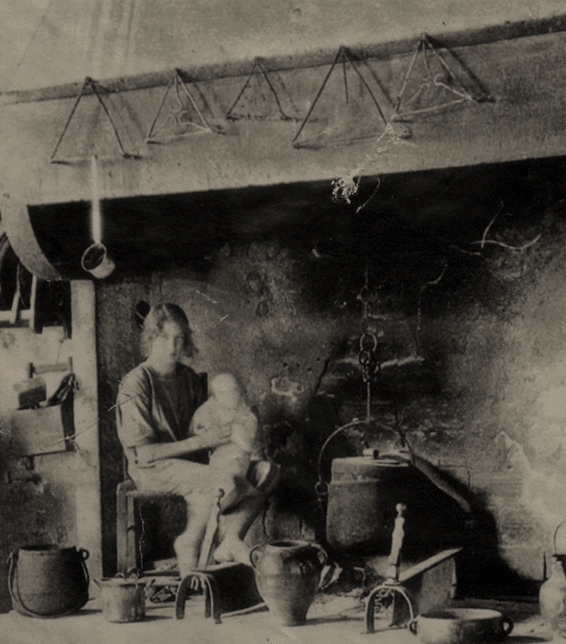 Sow a pillowcase for every memory, put them to bed,
Give them the sleep of a linen sheet.
Ivy turns the night green.
An apple falls on the grass, but you tack and sow.
It calls for needles and scissors. It calls for precision.
(from Salva con nome, Antonella Anedda)
The centre of social life was to be found in the stables, where people gathered together especially in the evenings: it was a place for telling stories and sharing experiences, where ancient legends and tales were handed down from generation to generation.